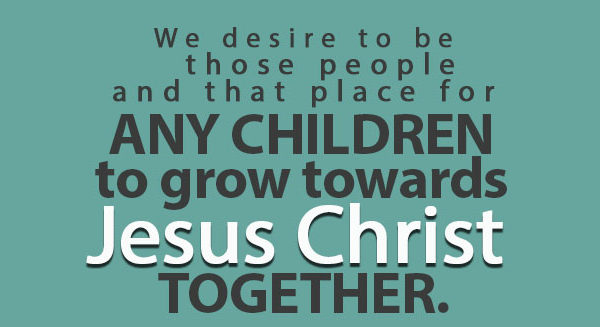 "Teach me your way, Oh Lord, and I will walk in your truth." Psalm 86:11 We believe this to be true. So, our focus is to do just this with any children we meet. TEACH. We hope to teach them to trust, give, listen, share, love, care, obey, serve, and forgive.
Sunday Mornings | 9:30 & 11:00
Ford's Chapel Children offers Sunday morning experiences for children through 5th grade, and we would love for your family to join us! Bible lessons and activities are specifically designed to reach each child at his or her age level.
Wednesday Nights | 5:30 – 7:30
Each Wednesday night Ford's Chapel Children participate in our "Wednesdays Together" Discipleship program. Families of all ages and stages gather to fellowship and break bread together from 5:30-6:15. From 6:15 to 7:30 children up through 3rd grade go to individual classrooms for age appropriate bible teaching and activities. Our 4th and 5th graders participate in the large group teaching and then break off into their classroom at 6:45 for age appropriate discussion and bible activities.
Events for Children
Throughout the year we host a variety of activities and community outreach events. Some of these events include Parents' Night Out, Vacation Bible School, student lock-ins, Easter celebration, and Fall festivities. So stay tuned!
We're looking forward to seeing you!