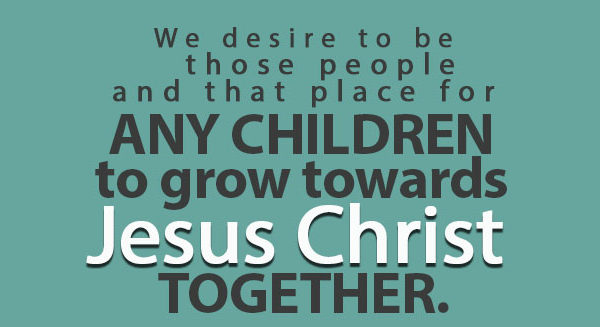 "Teach me your way, Oh Lord, and I will walk in your truth." Psalm 86:11 We believe this to be true. So, our focus is to do just this with any children we meet. TEACH. We hope to teach them to trust, give, listen, share, love, care, obey, serve, and forgive.
Sunday Mornings | 9:30
Ford's Chapel KidsMinistry offers Sunday morning experiences, at 9:30am, for children through 5th grade, and we would love for your family to join us!  We have nursery available for babies ages 6 weeks to 2 years. Children ages Pre-K through 5th grade will check-in to age appropriate small group classrooms for circle time and then go to the sanctuary for Kids Worship Camp. In Kids Worship Camp,  we hope to engage kids' hearts through a dynamic and interactive Bible story, worship, activity, offering time, and prayer experience in a large group setting. All children will return to their classrooms and be checked out by parents at end of service. We look forward to seeing you there.
Sunday Mornings | 11:00
Nursery is available during this hour of worship.
Events for Children & Families
Throughout the year we host a variety of activities and community outreach events. Some of these events include Parents' Night Out, Vacation Bible School, student lock-ins, Easter celebration, and Fall festivities. Events will be posted here as they arise, so keep your eyes peeled!
COMMUNITY EASTER EGG HUNT
Ford's Chapel Kids Ministry is partnering with the Ford's Chapel Learning Center to host a simple laid back morning of fun for all children in the community. Come join us! If you have any questions or need more information, please email Katie@fordschapel.org.

ADVENTURE TOGETHER
This event is for anyone that is interested in walking with children towards Jesus Christ. These vision and training events will encourage and equip you for the journey ahead. We will take a look at where we are now, where we are going, and what we need to focus on to get there. There are two event date and time options to allow for convenient scheduling. We will be providing appropriate meals for you, so please click here to register for your time slot. We look forward to the trek ahead with you.
Ford's Chapel SUMMER FAM JAM
2018 is going to be ELECTRIFYINGLY fun!
We don't know if that's a real word, but we DO know that you're going to have an EXTREMELY awesome 3 days as a family focusing on why God wants each of us to be OVERLOADED with CONFIDENCE. This is an opportunity for the whole family (whatever your family looks like) to set aside time to journey closer to Christ together, as a family unit. Each day will include large group worship sessions, small group age appropriate learning, and of course fun for all ages, This event is geared towards every age group.
---
He wants us to live our lives FULLY ALIVE because
we can believe that what He says is TRUE!
More information and registration coming soon
We're looking forward to seeing you!